Why Global Citizens Should Care
From political activism to World Pride month celebrations, these photos show why it's more important than ever to commit to achieving the Global Goals. You can join us in taking action 
here
.
---
India is battling with severe heat waves as the maximum temperature in some parts of the country soar to 48 degrees Celsius (118 degrees Fahrenheit). New Delhi recorded its highest-ever temperature on Tuesday, while the region of Churu, in the nearby state of Rajasthan, experienced highs of 50.8 degrees Celsius (123 degrees Fahrenheit).
Of the 15 hottest places in the world this week, eight were in India, with the rest in neighboring Pakistan. The extreme heat has also led to severe droughts in parts of the northern and western regions of India, causing many residents to flee their villages in search of water.
In Hong Kong, millions of people gathered in the streets to protest a controversial bill that would those in Hong Kong accused of crimes in China and Taiwan to be extradited to face charges. Hong Kong has no formal extradition agreement with China, and Taiwanese lawmakers have objected to the proposed legislation. Hong Kong, a former British colony, re-joined China in 1997, but is considered a "Special Administrative Region" and is allowed to operate independently. Protesters say the proposed bill will undermine the city's civil liberties and threatens the rights of political and human right activists.
Demonstrators expressed outrage over violent police tactics used during the peaceful protests. Many organizations have since shared online petitions, signed by tens of thousands of people, objecting the use of rubber bullets and tear gas on demonstrators, which left about 80 people injured.
Despite these struggles, there were also many occasions to celebrate this week.
The month of June is the official World Pride month, chosen to commemorate the Stonewall Riots that took place at the end of June in 1969, and sparked the beginning of the LGBTQ rights movement in the US. People all over the world are celebrating the progress the LGBTQ rights movement has seen, and highlighting the work still left to be done to achieve equality.
People around the world also celebrated World's Ocean Day on June 8, recognizing the importance of oceans to human and marine life, and calling for action to protect the world's water.
These are some of the most powerful images from around the world this week.
---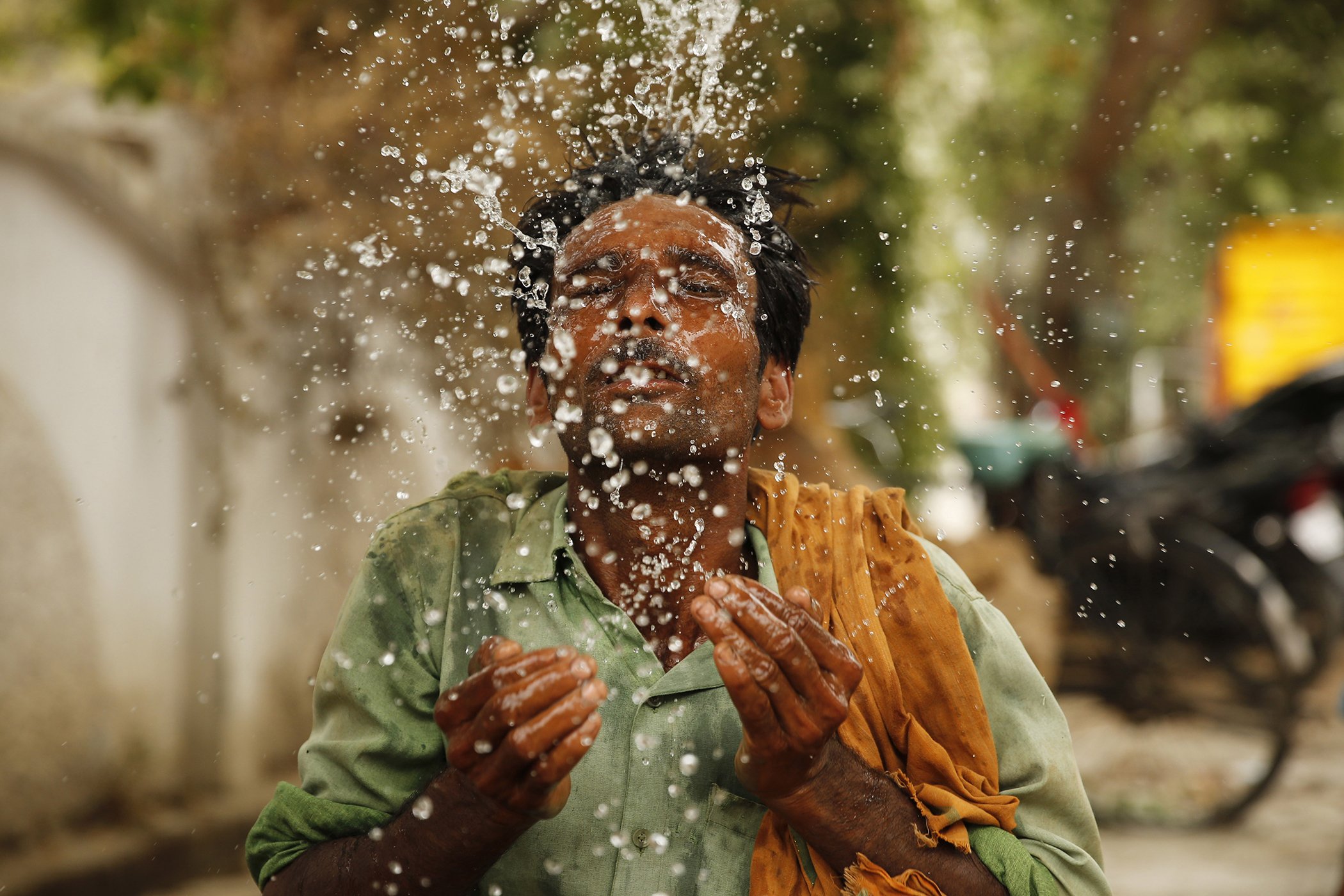 Image: Rajesh Kumar Singh/AP
1. Heat Wave in India: An Indian worker splashes water on his face to cool himself on a hot summer afternoon in Prayagraj, Uttar Pradesh, India, on June 13, 2019. Severe heat waves have swept through northern and western parts of India with maximum temperatures soaring to 118 degrees Fahrenheit in some areas. The extreme temperatures have killed at least 36 people, with the country's poorest bearing the brunt of the devastation. National disaster management officials said warned on Wednesday that the record temperatures were impacting more states than in previous years. New Delhi recorded its highest-ever temperature of 118 degrees Fahrenheit on Tuesday, while Churu, in the northwestern state of Rajasthan, saw temperatures reach as high as 123 degrees Fahrenheit. Many experts predict that, as climate change accelerates around the world, extreme weather events, such as heat waves, will keep getting stronger and more destructive, putting communities at risk.
2. Religion in the Middle East: This picture shows the Yasser Arafat Mosque at sunrise in the West Bank City of Nablus, on June 11, 2019.
Image: Kin Cheung/AP
3. Protests in Hong Kong: A protester holds up a yellow umbrella as he and others march on June 9, 2019, in a rally against a bill that would make it possible for people in Hong Kong, wanted for crimes in China and Taiwan, to be extradited to face charges. Hong Kong has no formal extradition agreement with China, and Taiwanese lawmakers have objected to the proposed legislation. The demonstrations on Sunday, said to be one of the largest in the city's history, started out as peaceful protests, but as they continued through the week, turned violent when residents clashed with police. According to the Associated Press, many in Hong Kong worry that the proposed measures would undermine the city's legal autonomy from China. Hong Kong, a former British colony, re-joined China in 1997, but is considered a "Special Administrative Region" and is allowed to operate independently. Over time, China, an authoritarian state, has tried to gain more power over the semi-democratic city, which citizens of Hong Kong have constantly met with resistance.
Image: Czarek Sokolowski/AP
4. Pride in Poland: People take part in an LGBTQ Pride march in Warsaw, Poland, on June 8, 2019. The Equality Parade is the largest LGBTQ Pride march in central and Eastern Europe. It brought thousands of people to the streets of Warsaw at a time when the country's LGBTQ rights movement is being targeted by hate speeches and a government campaign depicting it as a threat to families and society.
Image: Marco Ugarte/AP
5. Central American Migration: Migrants cross the Suchiate River near Ciudad Hidalgo, in Guatemala, traveling to Mexico on a raft, pushed with a pole by its operator who charges his passengers, early on June 9, 2019. Mexican and US officials reached an agreement late Friday that calls on the former country to crackdown on migrants. In exchange, President Trump will back off his threat to impose a 5% tariff on Mexico's exports for failing to stem the flow of Central American migrants crossing from its territory into the US. Migrants fleeing Central America's Northern Triangle region comprising Honduras, El Salvador, and Guatemala routinely cite poverty and rampant gang violence as their motivation for leaving.
6. Protests in Hong Kong: A protester sits at the middle of Harcourt Road in Hong Kong after a protest against a controversial extradition law proposal on June 12, 2019. Violent clashes broke out in Hong Kong on June 12 as police tried to stop protesters storming the city's parliament, while tens of thousands of people blocked key arteries in a show of strength against government plans to allow extraditions to China.
7. US Immigration: A Guatemalan migrant recently released from federal detention holds an envelope with a message written in English as he waits inside a bus depot on June 11, 2019, in McAllen, Texas.
8. Ebola Outbreak: A health worker wears protective gear at the Mpondwe Health Screening Facility in a Ugandan border town, near the Democratic Republic of Congo, on June 13, 2019. A grandmother in Uganda has died from Ebola, health officials said on June 12, 2019, the second fatality in the country since the major outbreak ongoing in Democratic Republic of Congo crossed the border.
9. Los Angeles Pride: A young girl holds a sign during the annual Los Angeles Pride Parade in West Hollywood, California, on June 9, 2019. LA Pride began on June 28, 1970, exactly one year after the historic Stonewall Rebellion in New York City, celebrating its 50th anniversary this month.
Image: Alvaro Barrientos/AP
10. World Oceans Day: A diver holds some waste he removed from the sea in the Basque village of Bermeo, northern Spain, June 8, 2019. People celebrated International Sea Day last Saturday in support and defense of the environment marine. Every year, more than 8 million metric tons of plastic enter the world's oceans, and it's projected that, without course correction, there will be more plastic than fish in the ocean by 2050.
11. Caster Semenya: South African runner, Caster Semenya, reacts after winning in the women's 2000 meter race during France's LNA (athletics national association) Pro Athle Tour meeting on June 11, 2019 at the Jean-Delbert stadium in Montreuil, a suburb of Paris. The double 800 meter Olympic champion, who was racing for the first time since a controversial new gender ruling came into effect, finished in 5 minutes and 38.19 seconds, ahead of Ethiopian pair Hawi Feysa and Adanech Anbesa. Semenya had been effectively barred from racing due to her naturally high testosterone levels, unless she agreed to take medicine to suppress the hormones.
12. World Oceans Day: A child swims in a pool filled with plastic bottles during an awareness campaign to mark World Oceans Day in Bangkok, Thailand, on June 8, 2019.
13. Daily Life in India: An Indian man bathes his child at sunset while sitting on floating bamboo for sale along the river Brahmaputra, in Guwahati, India, on June 12, 2019.
14. Cyclone in Pakistan: People gather on sea view during high tide of the Arabian Sea in Karachi, Pakistan, on June 13, 2019. Tropical Cyclone Vayu formed in Arabian Sea has been classified as a Category One storm, and the Metrological Department issued alert in this regard.
15. Panda Conservation: Panda cubs eat in the Shenshuping Panda Base of the Wolong National Nature Reserve in Wenchuan in China's southwestern Sichuan province, on June 13, 2019. Born to a wild father and captive mother, nearly 1-year-old twin pandas roll on the grass in a conservation base in southwest China, marking an important achievement in the preservation of the country's beloved animal.
Source: Global Citizen