In a remote corner of southwest Madagascar last month, local communities launched the world's largest mangrove carbon conservation project, securing an ecosystem that is vital to fishery health and a carbon sequestration superstar. In partnership with Blue Ventures (Skoll Awardee 2015), the communities within the Velondriake Locally Managed Marine Area have committed to protect 1,200 hectares of mangrove forest to safeguard its vast amount of stored carbon, avoiding emissions equivalent to about 3.5 million annual passenger car miles. That ecological benefit has significant value on the voluntary carbon market—funds that will flow to these climate-impacted communities to improve schools and critical infrastructure and support the running costs of the Locally Managed Marine Area. We checked in with Leah Glass, Mangrove Technical Lead at Blue Ventures, to learn more about their role in this pioneering project and the emerging "blue carbon" market.
Zach Slobig: What makes mangroves among the most productive and ecologically valuable habitats on earth and what are their main threats?
Leah Glass:  They are a crucial habitat for many commercially important fisheries. In tropical regions, between 30-100 percent of all fish caught spend at least some of their life cycle in mangroves. Mangroves are also a key source of fuel for coastal communities around the world, particularly in East Africa.
After the 2004 tsunami, awareness has also grown around mangroves' ability to protect coastal people against extreme weather and rising sea levels. While it varies widely across regions, mangroves are dynamic systems that can cope with sea level rise of up to three millimeters a year. Meaning that, to some extent, they can continue to protect in the face of rising seas.
The threats vary region by region. In southeast Asia, it's mainly aquaculture and clear cutting for rice paddies that are the major threats, particularly in Indonesia, Vietnam, Myanmar, and Thailand. Oil palm plantations are also an increasing problem.
The primary threat in Madagascar, along with timber harvesting and rice production, is charcoal production. Where I live in northwest Madagascar almost 500 hectares a year are lost to charcoal production, which is almost four percent of the mangroves.
Zach: Tell me about the communities that are now responsible for protecting this area—how do they subsist and what are the biggest problems that they face?
Leah: The Vezo people of southwest Madagascar are some of the most vulnerable coastal communities in the world. It's a very arid region, so the terrestrial forest is sparse and fragile, and the soil is unproductive. Because of this, the Vezo have an incredible culture and history of fishing, and 90 percent of their income and almost 100 percent of their protein comes from fishing. Mangroves are vital for the region's fisheries, and for protecting the rest of the marine system. They filter out pollutants and all kinds of nasty things that can impact the coral reef and seagrass.
Zach: When you're working with these communities, are there older folks who have that institutional memory of when the mangroves were a more functioning ecosystem?
Leah: Absolutely, they're called olobe—elder in Malagasy. Over the last decade or two, they've seen dramatic change across all the ecosystems that they depend on due to increasingly destructive methods of fishing, a rapidly changing climate and increasing stresses from population growth. They've seen decreases in their fish catches and recognize a correlation between mangrove loss and changes in fisheries.
NGOs have this big thing about education and capacity building, but if we listen to people they're like 'well, obviously, there's the link'. It's not something they need to be told. But they live on such a day-to-day basis, particularly from a food security perspective, they have little choice but to over-harvest the resources. That's the vicious circle that Blue Ventures has been working to break with the Tahiry Honko ('preserving mangroves' in the local Vezo dialect) project, but we also support coastal communities in the southwest of Madagascar with locally led marine management and livelihood diversification.
Zach: How do you explain this idea of blue carbon to a non-specialist?
Leah: Mangroves are this incredibly productive ecosystem. They also store astonishingly large amounts of carbon in their biomass and sediments, which has only really come to light over the last decade of scientific research. In Indonesia, if one hectare of mangrove forest is cleared for aquaculture, that carbon would be oxidized to emit the carbon dioxide equivalent of burning almost 3,000 barrels of oil. Until carbon markets came onto the scene, this was like well, that's nice, but to the villages we work with, who really cares?
People like you and I who do a lot of flying, we've all become much more conscious about that footprint and work to offset those emissions. Thanks particularly to the voluntary carbon market, if a village or community have one hectare of mangrove forest which they choose to protect rather than cut down, there are tons of carbon dioxide locked in that forest which won't be released, and they can basically sell those tons of carbon dioxide to offsetters for whatever the market is willing to pay.
The climate change impacts these communities face are extraordinary, and globally fisheries are being devastated. Blue carbon through local management is an unrealized value for these people. Also, marine management costs money. Historically, generous donors have provided that, generally through NGOs that may or may not stick around. The blue carbon market can provide an important source of funding for locally led management for the next 20 years.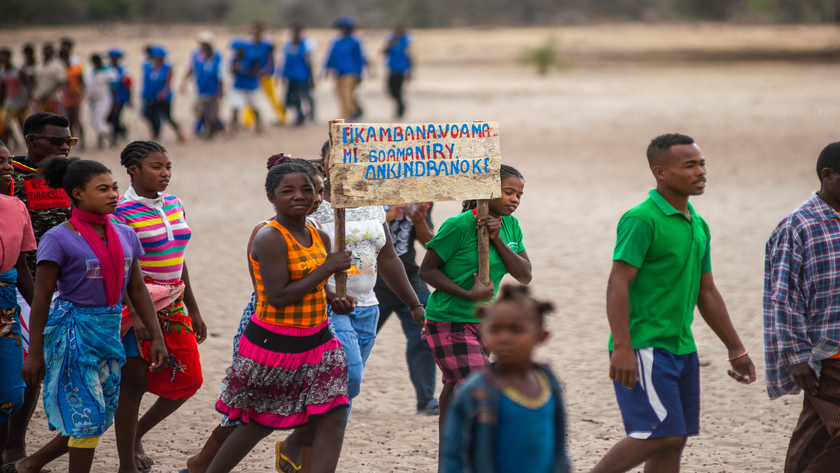 Zach: How do the finances flow and how do these local communities see the tangible economic benefit?
Leah: The local management association are the project owners and Blue Ventures is the technical support. One of Blue Ventures' roles is selling the credits, so it's been our responsibility to market the credits, but to be honest, it's been more of a job of picking the buyer. There's a high demand for carbon credits that do more than just offset carbon, particularly any linked to the ocean. Blue Ventures is responsible for transferring the sales income to the management association and to the government of Madagascar, the two main stakeholders.
One of the most critical parts of the project development process has been the creation of the benefit sharing arrangement, which is really the key to making these projects successful in the long term. The partner villages decided between them that 50 percent of the funds should go to the villages within the mangroves, and they have come up with a list of priority social investment projects which will improve their wellbeing—things like solar panels, safe drinking water projects, improved buildings for schools. Then 23 percent of the funds go to the management association to cover the running costs of the locally managed marine area and the remaining 27 percent goes to the national government as the other main partner in the project.
Zach: How long does it take for these communities to feel the benefits of those funds, from the time of making that decision for local protection to seeing the community improvements of schools, wells, solar panels? 
Leah: That's one of the challenges of the model. We've learned a lot, because this is the first big project like this at scale, and it has taken about three years from them deciding to do this to them getting money. That's been challenging for people who live on a day-to-day financial basis, but they are now ready to own this project and not be reliant on Blue Ventures to make it a success. Our role was to get it across the line from a technical perspective, dealing with the standards and all the documents, and now it's in their hands.
Looking forward, Blue Ventures is now focused on how we can improve the blue carbon model, to enable much needed funds to flow to communities more quickly and easily.
Want more stories of large-scale change on the world's most pressing problems? Sign up for Skoll Foundation's monthly newsletter. 
The post How a Pioneering Mangrove Conservation Project Could Provide Decades of Income for Madagascar Coastal Communities appeared first on Skoll.org.
Source: Skoll.org