---
Why Global Citizens Should Care
More than 150 million people are homeless worldwide. The United Nations' Global Goals promote bringing an end to homelessness and extreme poverty for good. Join us and take action on this issue here.
---
California will set aside nearly 300 state buildings to house the state's homeless population, Governor Gavin Newsom announced during his State of the State address on Wednesday.
Newsom spent the majority of his speech proposing legislature to fix the homeless crisis, something a California governor has not done during the annual State of the State address in over three decades.
"Let's call it what it is, a disgrace, that the richest state in the richest nation…is failing to properly house, heal, and humanely treat so many of its own people," Newsom said during his Wednesday address.
Despite continued economic growth, homelessness in California has surged. In just the last year, homelessness increased by 16%, expanding the state's homeless population to over 151,000 people.
This spike in homelessness can be attributed to California's affordable housing crisis, a predicament in which rents for houses and apartments are skyrocketing, while the average income remains stagnant.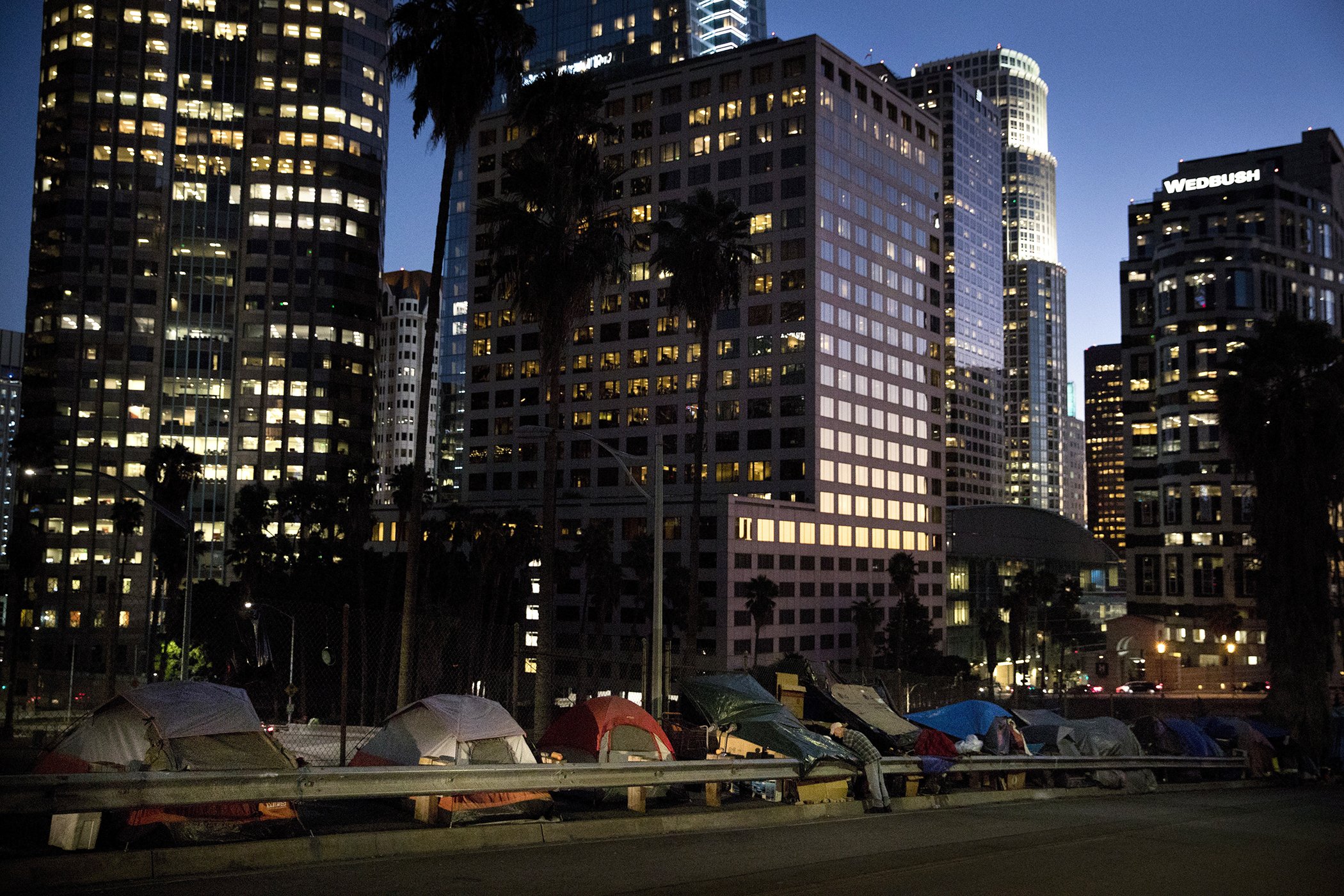 Homeless tents are dwarfed by skyscrapers as a man sorts his belongings in Los Angeles in this December 2017 file photo.
Image: Jae C. Hong/AP
In an effort to create more available housing, Newsom revealed that approximately 286 state properties and buildings will be used to house the homeless at no additional cost.
This move comes just as the state has started to use trailers and mobile homes to provide emergency shelter for the homeless in more rural regions.
Homelessness in California has increased the most in small towns, rural areas, and in other far-removed portions of the state.
"No place is immune. No person is untouched. And too often no one wants to take responsibility," Newsom said.
Earlier this year, Newsom put forward a series of spending bills to fix the state's homeless crisis, proposing spending $750 million to create more housing for the homeless and an additional $695 million to increase homeless services.
Newsom went on to discuss the connection between homelessness and mental illness, suggesting that the threshold for state guardianship of homeless people living with mental illness who refuse medical assistance should be lowered. He also called for increasing mental health services in the state.
Gov. Gavin Newsom speaks at a news conference in Sacramento, Calif in May 2019.
Image: Rich Pedroncelli/AP
Expanding on the correlation between health issues and homelessness, he claimed that Medicaid should be used to purchase housing for those in need.
"Health care and housing can no longer be divorced," Newson said. "After all, what's more fundamental to a person's well-being than a roof over their head?"
Source: Global Citizen