---
Why Global Citizens Should Care
Global Citizen campaigns on the United Nations' Global Goals, which include gender equality, good health for all, and universal education. You can join us in calling on world leaders, individuals, and big corporations to step up for what's right in the world by taking action here.
---
On Sept. 28, 2019, New York City's Central Park once again became home to the Global Citizen Festival.
With musical performances from the likes of Queen + Adam Lambert, Pharrell Williams, Alicia Keys, One Republic, H.E.R., Carole King, and more, plus life-changing commitments across issues areas like gender equality, plastic pollution, and education — it was a night not to be missed.
If you weren't able to make it in person, however, you can still check out the top 21 most awe-inspiring, emotional, heartfelt, and hopeful moments from throughout the night.
1. Ben Platt waved to his mom and dad
Broadway star Ben Platt warmed the hearts of people in the crowd when he waved to his mom and dad from on stage, and then brought the audience to tears with moving renditions of "Bad Habit" and "Rain" from his debut album Sing to Me Instead.
2. Leaders committed to Education Cannot Wait
Millions of children around the world are unable to go to school because of conflict, natural disasters, and other emergencies. The global nonprofit Education Cannot Wait (ECW) exists to help the most vulnerable children — including those impacted by conflict and crisis — return to school.
On the festival stage, Ireland, Norway, the US, and the LEGO Foundation reaffirmed their pledges to commit funding to ECW — with a total of $216 million committed by world leaders to ECW this week.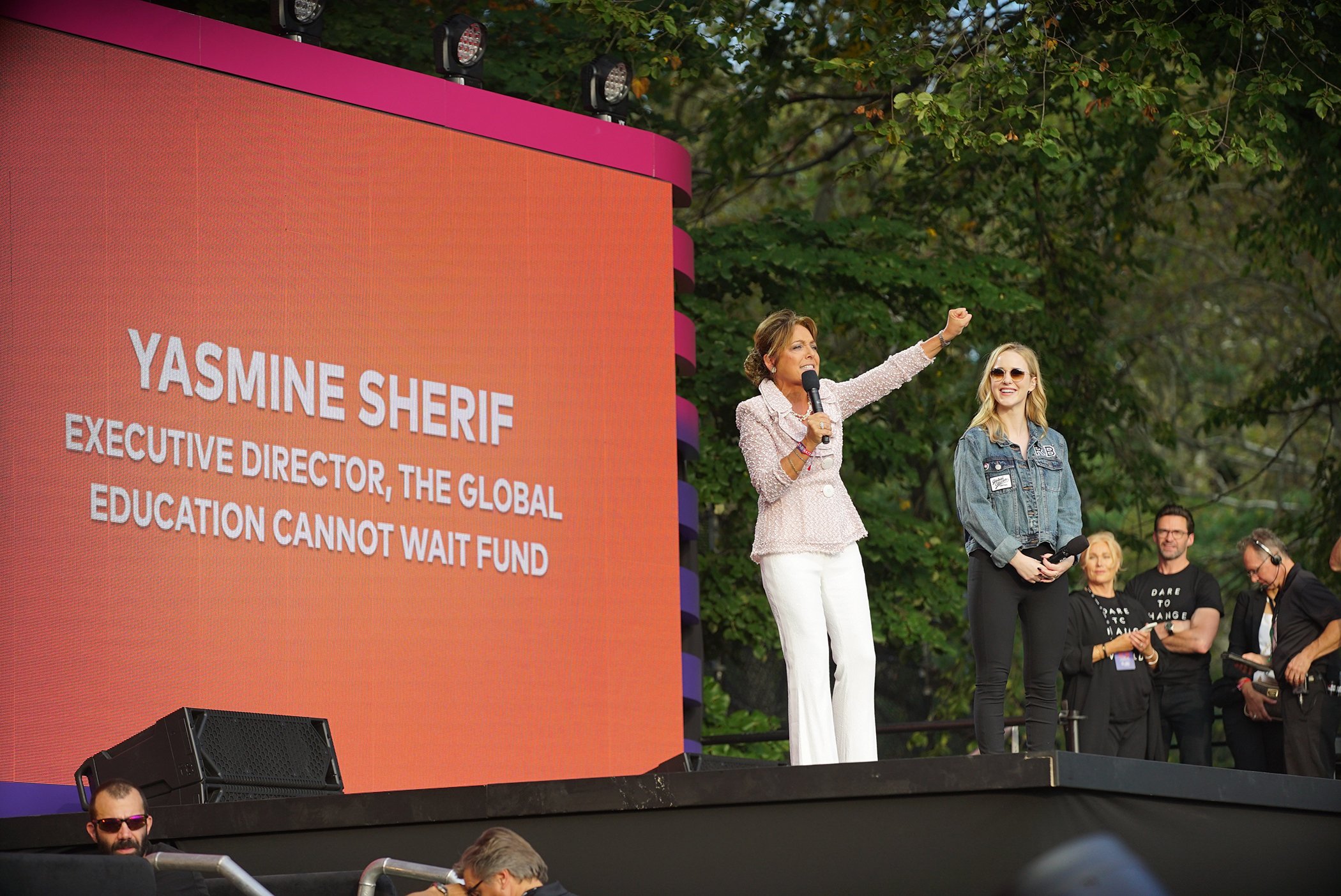 Image: Global Citizen/Ethan Judelson
"Our experience is that education is the key to breaking cycles of conflict," Ciarán Cannon, Ireland's minister for development, told the crowd. "Education fosters inclusion, tolerance, and human rights across the globe."
"We believe that children and young people, even in the most difficult of situations, must have access to quality education if we are to enable them to realize their life changes," he added.
3. Nigeria's Plateau State governor pledged to end open defecation by 2023
Not having access to clean water and sanitation can have a devastating impact on a person's life, affecting their chance to go to school, secure employment, stay healthy, and break the cycle of poverty.
Since last year, Global Citizens have taken over 150,000 actions calling on governors of Nigeria to take a stand against open defecation — where people defecate in the open because of a lack of modern toilet facilities.
Simon Bako Lalong, the governor of Plateau State in Nigeria, told the festival audience that "76% of Nigerians today live without access to basic clean drinking water and sanitation, and children, girls, and women are hit the hardest by this devastating reality."
In answer to Global Citizens' calls, Lalong announced $43 million in direct government investment to fight open defecation, and an additional $33 million to be secured in private sector investments.
4. One Republic played "Halo" 
One Republic's Ryan Tedder touted his eclectic songwriting credits for some of the most popular artists in the world before performing a powerful version of Beyoncé's "Halo", as the Central Park crowd joined in for a massive sing-along.
The alternative rock favorites played some of their greatest hits including "Apologize," "Secrets," and "Counting Stars."
Tedder ended the set by applauding the audience for their activism.
"Thank you guys for doing acts of kindness to get here," he said.
5. Mexico committed to achieving a world where #SheIsEqual 
Singer, songwriter, actor, and Global Citizen Ambassador Becky G has long campaigned with Global Citizen and partners to help end gendered economic discrimination.
On the Global Citizen stage, Mexico listened to Becky G and Global Citizens' call.
Martha Delgado Peralta, the vice foreign minister of Mexico, took to the stage to announce that Mexico will be adopting a new "feminist foreign policy plan" that would put women's empowerment at the front and center of the nation's decision-making.
"From mandating gender equal appointments of ambassadors, to committing to advance the rights of girls and women through our engagement in the United Nations and other international forums, we firmly believe that our commitment to a feminist foreign policy will positively impact the lives of women and girls in Mexico and around the world," Delgado Peralta stated.
6. Carole King performed in Central Park for the first time since 1973
New York native and music legend Carole King played a long-awaited show which saw tens of thousands of Global Citizens singing along to her 1971 hit "You've Got a Friend."
She also performed — to huge applause for the crowd — a stunning rendition of Aretha Franklin's "(You Make Me Feel Like) A Natural Woman", as well as her own hits "Where You Lead" and "I Feel The Earth Move".
King ended her set by calling on the crowd to take action for the protection of the environment, urging them to call their senators and remind them "they need to support the environment and earn their votes."
Her set also featured a stirring duet performed with Kelly Clarkson, of the Gilmore Girls theme tune "Where You Lead."
7. Always committed to double its donation up to 100M period products to keep girls in school 
Over the next two years, menstrual hygiene brand Always will double its donation up to 100 million period products to help combat poor menstrual health and keep girls in school. This incredible commitment is double Always' donation from the past two years, and was met with rapturous applause from the crowd.
Jennifer Davis, global femcare president at Procter and Gamble, took to the stage alongside actor, director, and activist Katie Holmes to highlight that education is a "powerful and proven way" to advance gender equality and economic growth — and why periods should never hold girls back.
"Global Citizens, together we can break the menstrual stigma and end period poverty," Davis said. "Periods should not stand in the way of a girl and her education. Let's create a world where she is equal."
8. Dakota Johnson spoke up for survivors of sexual violence 
One year ago, at the 2018 Global Citizen Festival, Dakota Johnson gave out her own phone number. She asked women and girls around the world to call her and leave a voicemail, telling their stories of sexual violence and harassment.
This year, she again took to the stage to report back to the crowd what's happened in the past year.
"I received calls from six of the seven continents, from 70 different countries, adding up to around 60 hours of real stories," she said. "These stories are from every age, and every gender, 95% being women."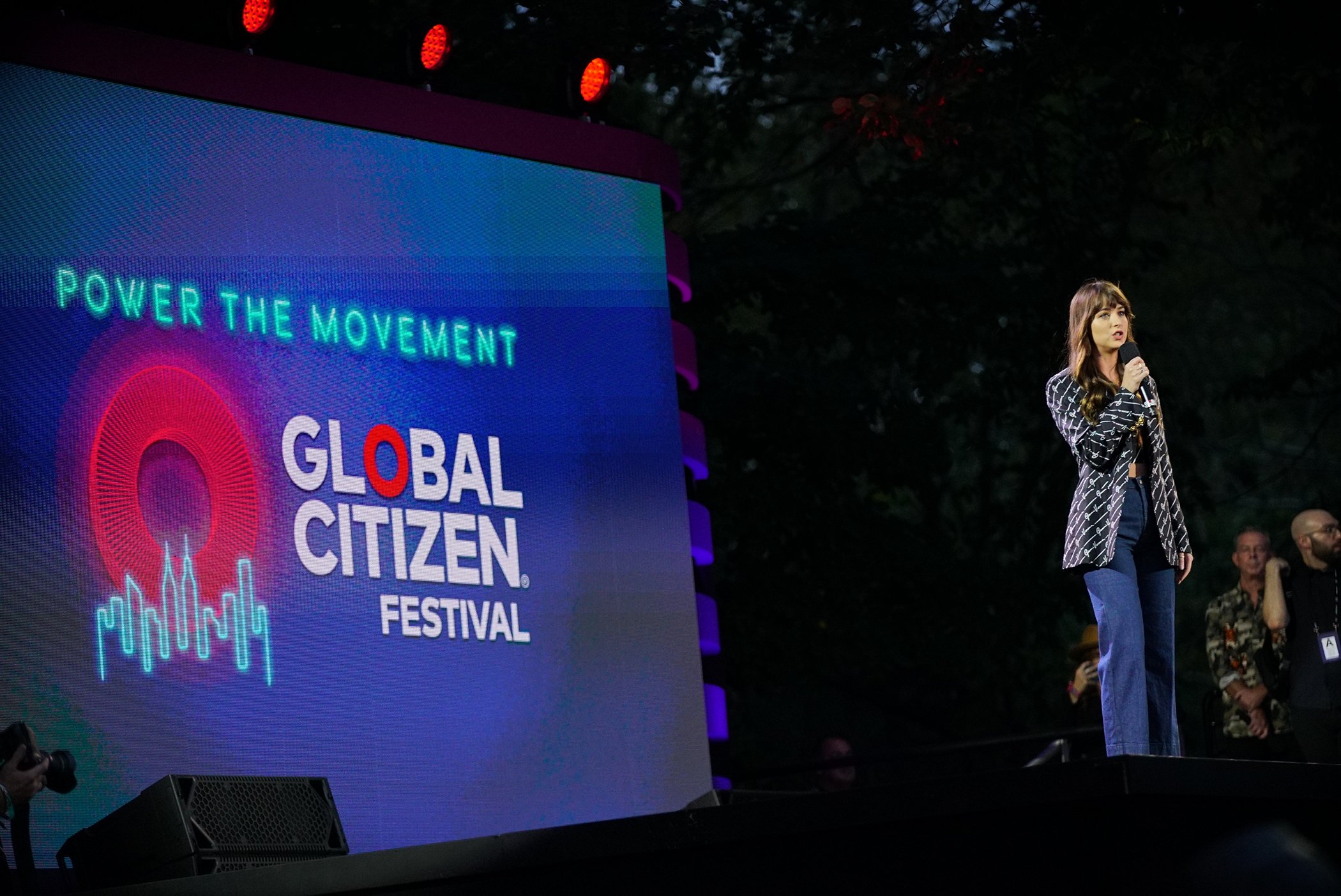 Image: Global Citizen/ Ethan Judelson
"The oldest called identified as 71, the youngest as 11," she continued. "I listened to these stories. And I promised I would get them heard, so now you can listen to."
Around these voicemails, Johnson has created a new podcast called The Left Ear, to "create a safe and compassionate conversation around sexual violence, and to bring awareness to the fact that we live in a time where gender-based violence affects over 35% of women around the world."
9. Two-time Grammy award-winning artist H.E.R wowed the crowd
Hot off the heels of her latest album I Used to Know Her, R&B sensation H.E.R got the crowd swaying with her soulful voice and hypnotic tunes. The 22-year-old performed a powerful cover of "Make It Rain" and brought the house down with her song "Best Part."
"I'm only 22, so the fact I have this voice is so powerful," she told the crowd. "Thank you Global Citizen."
9. K-Pop supergroup NCT 127 brought electrifying choreography to the stage 
Seoul-based supergroup NCT 127 — featuring eight singing and dancing prodigies — brought the very best of K-pop to the Global Citizen stage.
Their first performance in New York City absolutely did not disappoint, performing their biggest hits "Highway To Heaven" and "Superhuman." There wasn't a dance move performed that didn't cause a chain reaction of screams from adoring fans in the audience.
10. Alicia Keys ran through her catalogue with grace and poetry
Alicia Keys prowled across the stage with joyful swagger as she led the crowd through her greatest hits. Early in her set, she brought out H.E.R. to join her onstage to jam out to Aerosmith's "Dream On."
Before getting the crowd swaying and belting the words to her classic "If I Ain't Got You" the R&B superstar gave a refrain-filled homage to collective action.
"Music just makes you remember, it makes you remember how important all of us together are so important, and tonight that's what we're here for," she said. "Because we are the power of the collective, the beautiful sound of the collective, the beautiful noise of the collective, and when we support each other, and we love each other, and we fight for each other, we come up with beautiful music."
Keys then played the local anthem "Welcome to New York" as the Manhattan skyline glittered in the background, and closed out with "No One" as thousands of cell phones lit up the Great Lawn.
"We believe in love, we believe in change, we believe in greatness," she said.
11. Kal Penn and Bill Nye urged companies to protect the oceans 
Global Citizen ambassadors Bill Nye and Kal Penn applauded the launch of Global Compact's Sustainable Ocean Principles — a United Nations initiative — a set of nine guidelines for protecting marine life from further degradation and promoting vibrant ecosystems.
The pair called on major companies that are taking action to fight plastic pollution, which is causing great harm to marine life.
Image: Global Citizen/ Ethan Judelson
"Cisco just signed the Sustainable Ocean Principles, but they've taken a step further and committed to reduce 75% of all foam packaging by 75%," Penn said.
"Earlier this week, the Minderoo Foundation committed $300 million to launch a revolutionary plastic initiative to end worldwide plastic waste," Nye added.
12. Leonardo DiCaprio thanked youth climate activists 
Oscar-winning actor Leonardo DiCaprio dedicated his appearance to celebrating the youth activists leading a global climate movement.
"Last Friday, young people led the world in strike," he said. "Millions of brave individuals did more than simply walk out of their school and places of employment."
"They took a stand," he added. "They set an example of true leadership that our planet so desperately needs. These young people have said clearly, definitively, and without fear, that the time for inaction is over."
DiCaprio introduced three of these leaders to the Global Citizen Festival stage — Alexandria Villaseñor, Xiye Bastida, and Selina Neirok Leem — as "true Global Citizens who are powering the movement from the frontlines…who should give us hope that change is possible."
13. The crowd got "Happy" with Pharrell Williams 
Pharrell Williams was welcomed onto the Global Citizen stage by Metallica drummer and activist Lars Ulrich, who said it best when he labelled Williams a "musical superman."
The environmental and gender equality activist certainly lived up to his name, bringing his trademark swagger to the stage to play hits "Freedom" and "Happy."
Against the backing vocals of the Voices of Fire choir, Williams sang to the crowd: "Clap along if you feel like happiness is the truth."
Which is exactly what they did.
14. Forest Whitaker and Angélique Kidjo asked the world to invest in human capital
Actor Forest Whitaker and singer-songwriter Angélique Kidjo put pressure on the world to invest in human capital.
"I truly believe that a country's greatest resource is its people," Whitaker said. "Human capital –– the education, skills, and health of people –– will play a pivotal role in the transformation of global economies."
Kidjo also highlighted the importance of ensuring that every child receives access to vaccines and food to make sure they reach their full potentials.
The pair asked Global Citizens to encourage governments to join the UK, Norway, and others to support the World Bank's Human Capital Project to build human capital in the world's poorest 59 countries in the next 10 years.
15. Laverne Cox paid tribute to pioneering AIDS nurses
Actress and LGTBQ activist Laverne Cox shared an exciting new project with Global Citizens that will help continue the work started at Ward 5B San Francisco General Hospital, the first dedicated AIDS unit in the US.
"In the early 1980s, the term 'gay cancer' began as a whisper heard in the hallways of hospitals across America," she said. "Soon after, millions of lives were lost as new cases were rapidly diagnosed around the world."
"Fear and stigma spread quicker than the disease itself," she continued. "But during those dark years, there were heroes who made a difference, providing hope and humanity, like the nurses who created Ward 5B at San Francisco General Hospital."
Cox announced she's partnering with Johnson & Johnson to launch their new red band-aids. For every box sold, 20 cents goes to the Global Fund to help end AIDS in sub-Saharan Africa, where the majority of the people living with HIV/AIDS in the world live.
"Change, real change, can only come from the courage, resolve, and commitment of pioneers like the nurses of San Francisco General," Cox said.
16. Natalie Portman is helping wipe out 3 deadly diseases in 11 years
Activist and actress Natalie Portman called on the world to join her and sign a petition to help wipe out three diseases that affect the world's most vulnerable people by 2030.
Portman made a promise to seven year olds everywhere that, by the time they turn 18, AIDS, malaria, and tuberculosis will be eradicated.
Image: Global Citizen/ Ethan Judelson
"Not too long ago, these diseases ended lives and destroyed communities," Portman said. "Then the world came together and created the Global Fund. Thirty-two million lives have been saved since, but millions of lives are still at risk."
Portman welcomed Peter Sands, the executive director of the Global Fund, and Norwegian Prime Minister and Winner of the 2018 Global Citizen Prize, Erna Solberg, onto the stage.
Solberg announced that Norway — following the over 51,000 actions taken by Global Citizens — will increase its contribution to the Global Fund to $2.02B Norwegian kroner ($228 million) by 2023.
17. Chris Martin & others highlighted the 2020 Global Citizen campaign 
The Global Citizen Festival will come to five continents simultaneously on Sept. 26, 2020, through the Global Goal Live: The Possible Dream campaign.
"The number of artists will keep growing," Martin said. "And I hope the number of Global Citizens will keep growing."
You can find out about Global Citizen's 2020 campaign here.
18. Lagos' governor committed $100M to ending open defecation 
More than 59,500 children under the age of five die because of poor water and sanitation in Nigeria each year.
Ending open defecation is essential to protecting children from waterborne illnesses, and Babajide Sanwo-Olu, the governor of Lagos, Nigeria, pledged his support to this effort at the festival.
"This is our last, and most critical, chance to end extreme poverty, tackle climate change, and reduce inequality in time to reach the 2030 Goals," Sanwo-Olu said.
"Together, we can power the movement and create a world free of extreme poverty. And you can count on Lagos State to do its part," he said. "I am pledging $100 million for clean water, sanitation, and ending open defecation in Lagos State by 2025."
19. Rami Malek channelled Freddie Mercury 
Rami Malek so convincingly embodied Queen frontman Freddie Mercury in Bohemian Rhapsody that he took home the award for Best Actor at the 2019 Academy Awards.
Who better, then, to introduce the iconic rock group Queen + Adam Lambert?
"This music gives us the resolve and strength to be our most authentic self," he told the audience. "We get to be real, we get to own ourselves, and I feel you all owning yourselves tonight. I am too."
"We're about to listen to one of the greatest bands of all time," he continued. "As Freddie said, 'Are you ready for the show? Are you ready to rock and roll?'"
Glamberts, who watched @QueenWillRock + @adamlambert rock Central Park tonight? pic.twitter.com/3eAV42vZdL

— Global Citizen (@GlblCtzn) September 29, 2019
20. Queen + Adam Lambert
As a thunderstorm loomed in the distance, the moment fans waited for all night finally arrived with a burst of red as crimson curtains parted to reveal Queen + Adam Lambert.
Lambert energetically launched into all of Queen's biggest songs, showing off the full range of his powerful voice with delicate precision and nuance. As the livestream panned to crowd, people could be seen enthusiastically jumping as they sang along to every word in "Don't Stop Me Now," "Somebody to Love," and "Another One Bites the Dust."
Freddie Mercury too joined the set in spirit, when a heartbreaking video of him performing "Love of My Life" played in the background as guitarist Brian May sat on a stool and strummed his acoustic guitar.
The second half of the set was pure energy as Lambert built from "Under Pressure" to karaoke favorite "Bohemian Rhapsody," which inspired a roaring chorus from the audience.
Freddie Mercury returned in video form for a stunning back-and-forth of "Day-O" with the crowd, and then the evening ended with Lambert in a crown and jewel-encrusted cloak delivering thundering takes on "We Will Rock You" and "We Are the Champions," a fitting end for a festival dedicated to the fight to end extreme poverty.
Source: Global Citizen